Robust, external validation of the device's high performance supports the remainder of clinical development.
INDIANAPOLIS (Jan. 21, 2021) — FAST BioMedical (FAST), a privately held late clinical-stage medical technology company, today announces its proprietary device that quantifies volume status and kidney function has been independently validated by a top clinical lab. The Advanced Research and Diagnostics Laboratory (ARDL) at the University of Minnesota evaluated FAST's device and found the device performs with accuracy, precision reproducibility and more. This instrument validation is modeled after Clinical and Laboratory Standards Institute's guidance used to validate performance of approved clinical assays and instruments and ensures the ability to measure the marker concentrations in human specimens.
Device validation is a key component of the healthcare technology development continuum. The process ensures devices undergo robust technical evaluation to confirm they perform as intended. FAST utilized a renowned third-party with deep domain experience in device development and validation to further ensure data integrity. The device passed tests indicating it performs with appropriate levels of accuracy, precision, range, linearity, carryover, and specificity. This confirmation further de-risks the development program and enables deployment of devices to clinical sites to support the remainder of FAST's integrated clinical and product development programs.
"We are extremely pleased ARDL confirmed the device performs with excellent accuracy and precision. ARDL is the premier facility to conduct these studies, and we wanted to ensure our technology was rigorously tested by the best facility available," said Dan Meier, PhD, Vice President of Product Development for FAST. "The demonstrated accuracy and precision validates the results we obtained using our device."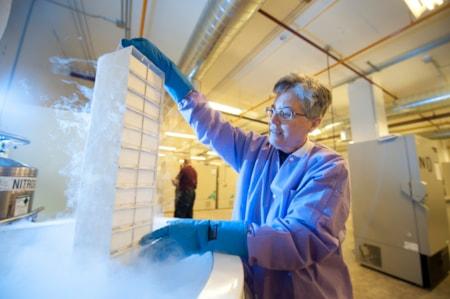 FAST selected the ARDL at the University of Minnesota to test its devices because it is one of the premier clinical laboratory testing facilities. The ARDL is recognized worldwide as a front-runner in clinical testing and operational excellence.
"In our testing of FAST BioMedical's device, we found the system performed very well," said Jesse C. Seegmiller, PhD, DABCC, FAACC, Principal Investigator at ARDL. "Our team is excited about the progress and promising results we acquired from the device during this evaluation."
A fleet of devices has been built and passed validation for use in product development and clinical trials. These devices include both hardware and a proprietary software package to calculate a patient's intravascular volume and measured glomerular filtration rate. FAST's first-in-class technology aims to revolutionize treatment for heart failure patients by providing rapid, accurate, quantitative, and simultaneous measurements of intravascular volume and measured glomerular filtration rate in clinically meaningful timeframes.
FAST has conducted four human clinical studies in Europe and the United States. All studies met their primary and secondary end-points targeted at the safety and performance of the technology across a variety of patients, function levels and disease states.
# # #
About FAST BioMedical
FAST BioMedical is a privately held company based in Indianapolis developing late clinical-stage medical technologies. The company's globally patented technology is designed to be the first to directly measure volume status and kidney function in a clinically actionable way. This technology has the potential for significant impact on the treatment of patients with heart failure, cardio-renal syndrome, major surgery, sepsis, and acute kidney injury. These products are investigational and not yet approved for human use. Learn more at www.FASTBioMedical.com.